Adding water features is a very popular feature for improving the style of landscaping. There is an increasing range of innovative designs as the market becomes more established and people become more aware of the advantages of using solar power. These advantages include environmental benefits, no mains electricity in the garden, and free energy.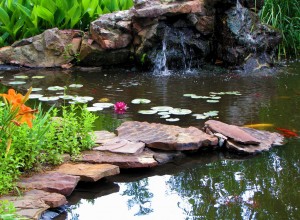 Modern water features are often self-contained, meaning that they do not require water to be plumbed in; water is recycled from a hidden reservoir, also known as a sump. The sump can either be contained within the water feature, or buried underground (in the case of an outdoor water feature).
A water feature may be indoor or outdoor and can be any size, from a desk top water fountain to a large indoor waterfall that covers an entire wall in a large commercial building, and can be made from any number of materials, including stone, granite, stainless steel, resin, and glass.